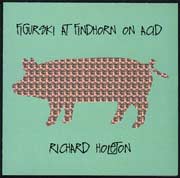 Figurski at Findhorn on Acid
a work of hypertext fiction
by Richard Holeton
Published by:
Eastgate Systems, Inc.
134 Main Street; Watertown MA 02472 USA.
CD for Windows and Macintosh
Web: www.eastgate.com/
Email: info@eastgate.com
Phone: (617) 924–9044 | (800) 562–1638
Purchase info
More on Richard Holeton
What do a murderous graduate student, a handless cup flipper, and a devious journalist have in common? All three want to find a pair of centuries–old mechanical pigs. Their alliances and double–crosses take them from a Scottish commune to the Moroccan desert by way of a Florida trailer park. Along the way, alternate and virtual realities are explored, until past, future, and processed ham are revealed and fed to the pigs.
---
This work of hypertext fiction, originally released in 2001, was re-issued this year on CD by that mediums premier publisher, Eastgate Systems. Here is my review:
The pig—long shaped by appetite—now yields up its latest gift to humanity as literary subject matter in Richard Holeton's hypertext fiction Figurski at Findhorn on Acid. But this is far more than a pig tale; Holeton transports us through a spiraling adventure spanning time, culture and pathological purposes with great wit and enthusiasm.
Holeton deftly combines fantastical exploits, pop culture and eccentric characters into a fascinating and accessible plot where cameo experiences swirl, combine, and dissipate so as to belie the work's deeper imagery.
The mechanical structure of hypertext allows the plot and the medium to combine. The result is a form and function navigational scheme that the author plots in precise detail, while what the reader experiences is more like a search on the web for some elusive imagining of facts. Holeton skillfully crafts this experience into a critical commentary on how we each must find our own suspicious way amid the randomly bombarding and cascading images and experiences of contemporary life.
Reading Figurski I was struck by how this must have been a damn enjoyable project for Holeton to envision and complete! Readers aren't left out of the fun, though, as Figurski is a hoot to read. But don't trust this praise and 'intellectual discourse' by a porcine pundit. Get yourself a copy of the Figurski CD and dive into this swirling adventure.
reviewed by: Daniel E. Schultz, Editor of Porkopolis.org
---
Other Porkopolis.org staff also offer comments:
P. Grunter Hoggeson III, Porkopolis.org Co-Founder / Financial Advisor
"A thoroughly enjoyable read! Richard Holeton is a master of pop and pig culture. I can only hope that someday our people here at Porkopolis.org will produce content that is as entertaining and ingenious."
Capt. Xavier Fronius, Roving Editor
"As we are daily informed by the news media of the threats of overflowing holding pools of swine manure in North Carolina hog operations, do we really need to consider the space–time metamorphosis of a mechanical pig of 17th century origin that eats Spam and shits?!?"
Mrs. Zipperian, Cafeteria Worker
"While I never reply to spam, I still love to serve it, eat it and read about it. Figurski is the most accessed shortcut on my home PC's desktop."
Circe, Editor of Supernatural Intervention / Sorceress
"I find this craft of changing pig to hypertext is quite pleasing, but Holeton, I speak as one well versed… Beware, lest there be an antidote to your anecdotes… With worm or bug or flower, a mortal may one day bring such talisman and return your efforts to other realms."
Gurth, Cultural Consultant for 12th Century Studies / Swineherd
"By St. Dunstan, though I be but a bondsman, and rustic in my reasonings, I know a good swine and a good tale when they stand before me. And truly, this Richard Holeton (though I suspect him to be of inferior gentry) has a wit and humor to challenge even my good friend Wambs's finest riddles… Well met, Richard, well met!"
Harry "Bock" Abott, Food Editor / Butcher
"Richard Holeton has finally handed his attentively raised work over to the slaughter of the publishing process, and we readers receive a meal that is like a fine butchered pig – worthy of the finest table and totally consumable, except for the squeal."