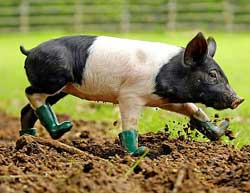 The laughing gods made pigs and contrived that they walk this earth on the animal equivalent of high heels. Consequently, pigs don't normally wear shoes. In fact, the idea seems almost contrary to reason, even if one little saddleback piglet on a farm near Bedale, North Yorkshire is trying to be the exception (video here).
Artist Jesse Draper's photostream on Flickr is a meditative journey through evocative portraiture, taxidermy, fashion and footwear. Jesse has created an entire collection of woman's shoe designs – like Bacon Janes to the left – that incorporate not just animal leather, but animal shapes.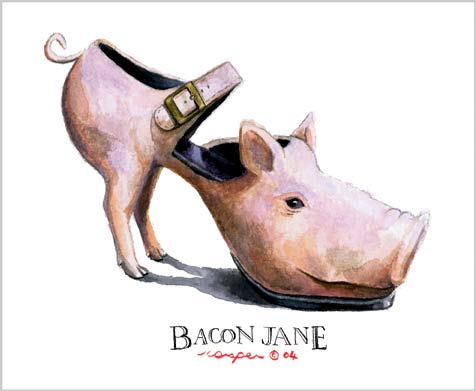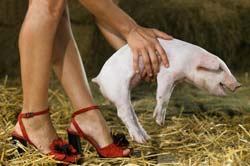 Any woman, especially when handling pigs, could just as easily and unself-consciously wear these Bacon Janes, or most any other shoe design in Jesse's collection as she could a pair of red strap heels.
And finally, I noticed that many of Jesse's shoe images include a descriptive poem by author and former secondary educator, Sam Beeson. Sadly, the Bacon Janes were noticeably verseless, and I have created this:
4 legs, 2 legs
Orwell's maxim on legs
shirked the shoes,
So some swine
leave their pettitoes out.
Mud on boots or pig's skin,
each must choose.
While the butchers tout
trotters deemed stout.