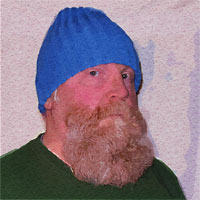 Blue Beanie Day celebrates support for accessible, semantic web content. Today is International Blue Beanie Day 2009 and Porkopolis.org is proud to be ready.
On this day, thousands of Standardistas (people who support web standards) will wear a Blue Beanie to show their support for web design done right. I'm wearing my blue beanie right now, and I've uploaded a photo of my blue-topped visage to the Flickr photo pool for Blue Beanie Day.
The design code for Porkopolis.org v5.x is looking pretty standard-ish; and an even better total re-design – v6.0 – is in development and due out in the first quarter of 2010. I am the editor, designer, developer and the client in this design and writing adventure. Porkopolis.org has not outsourced any core processes. So like the pig component of the bacon-and-eggs breakfast, I am committed.
Wow, bacon! Mmmmm… Isn't the thought of bacon in the morning distracting? Oh, sorry…. Anyway, just so casual visitors understand, I'm not just tarting up this pig here by mentioning Blue Beanie Day. I've presented here a large and growing collection of facts, art, literature and cultural observations about pigs and their relationship with humans. That content is what is significant about Porkopolis.org.
The web standards side of things is just an incidental to pig fanciers. It is a challenge I've given to myself, to look deeper into the code that builds this site, just as the site looks deeper into the relationships between pigs and humans.
I hope Porkopolis.org continues to provide visitors with interesting and enjoyable content.