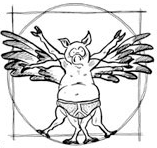 The image of the Vitruvian Swine idled in my imagination for several years before it debuted on Porkopolis.org. It eventually appeared in its now classic form with an accompanying blog entry as The Vitruvian Swine.
While perfecting my version, I discovered that many other folk have independently arrived at a similar conceptions of da Vinci and various human and animal forms. I have stumbled upon many other versions; and recently I found a vast portal to Vitruvian diversity.
But none of these have appealed to my inner oinkeological nature so much as the swine at Matt Buck's Hack web site. Matt is an illustrator, animator and journalist. He is also an enthusiastic admirer of the flying pig.
A midst his resume, portfolio and blog, Matt includes many cartoon tributes to the pig. Matt explains that the pig "seems to have appointed himself as my corporate branding," and adds that in his blog, "I chronicle aspects of my own life and my love of flying things – including pigs."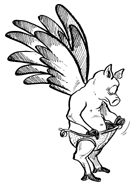 The flying pigs on Matt's site are the visitor's personal escorts through the details of Matt's expertise on the hoof. The Vitruvian styling is but one of their many performances. They deliver mail, route traffic, proffer introspection and manage Matt's affairs.
As drawn by Matt, these flying pigs are warm yet mischievous; and as all flying pigs should be, they are signposts that engender good will and the promise of new possibilities, like the unexpected offer of a cup of tea and cakes from a congenial new friend. Visit Hack. In this world fraught with oinkst we can all use another pal.
Post Script: Matt's "Vitruvian Pig" does have wings, and coincidentally, I am working on an experimental version of my own Vitruvian Swine with flight capabilities. Pre-launch testing is being carried now. Below is a blueprint of the current design: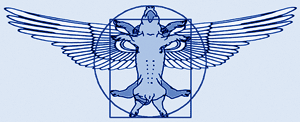 All the Hack images included here are © Matt Buck. Please contact him for rights to reproduction.