I am the Ghost of Christmas Present," said the Spirit. " Look upon me! You have never seen the like of me before!

— The Ghost of Christmas Present from A Christmas Carol by Charles Dickens.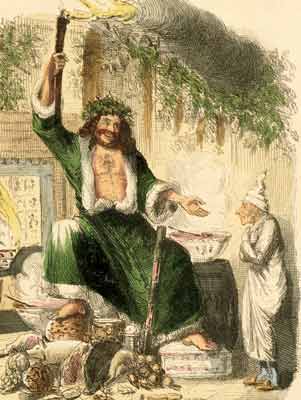 Here is a Dickensian name for a Dickens illustrator. The artist John Leech, aka: "Blicky" to his friends, is the artistic source for Porkopolis.org's 2010 Christmas greeting to visitors and friends – a greeting originating from The Ghost of Christmas Present.
John Leech (1817-1864) was the British illustrator of the first book edition of Dickens' A Christmas Carol, published in 1843 by Chapman and Hall in London. In the book, The Ghost of Christmas Present was the second of the supernatural visitations, after that of the ghost of Jacob Marley, to haunt the miserly Ebenezer Scrooge in order to persuade him to repent.
Dickens describes The Ghost of Christmas Present as a jolly giant in a green fur-lined robe, a holly wreath set with shining icicles on his head. The spirit sits in Scrooge's adjoining room holding a large torch and is surrounded by a great feast laid out on the floor.
While Dickens makes only brief mention of brawn and sucking-pigs among the delicacies in the great feast, our pal Blicky, in his depiction of the Ghost of Christmas Present, had the good judgment to include a whole pig, visible just below the Ghost's right foot, in his illustration.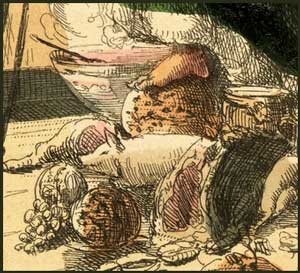 Additional Information:
The Porkopolis.org Art Museum has Leech's Ghost of Christmas Present on display, while Charles Dickens' one and only 66 page original manuscript for A Christmas Carol is now on display at The Morgan Library and Museum in Manhattan. A high-resolution digital copy of that original manuscript is also available, or you can read this one of many full text versions.
Thank you Blicky, and Merry Christmas to all!