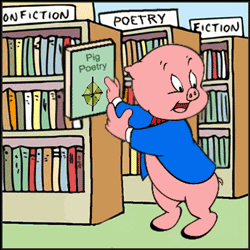 In the Porkopolis.org Library, poetry updates for mid-April include: an eccentric Anglican; a moveable feast; diction adapted to a certain class of readers; lawyers, not pigs in time of famine; hogs and men hunted and penned in an inglorious spot; and lastly, perpetual promises, but to no good ends.
The poet Robert Peters discusses Gyp, the big black pig of Robert Stephen Hawker (1803-1875) an eccentric Anglican clergyman.
The Art Museum has added Pieter Brueghel the Elder's "The Land of Cockaigne." This painting's special moveable feast, a ready-to-eat pig, also attracts Robert Peters' attention.
For the poet Hale Chatfield, Porky Pig is the point of departure for a look at the perpetual promise and beautiful hopelessness of language and life.
Nathaniel Cotton, M.D., a mental health practitioner and poet of the eighteenth century, reflects that "once a hog, and always so" with a certain level diction adapted to the class of readers whom he was most anxious to please.
John Courtenay contemplates poetically how a Pope who asked for swine from Naples in a time of famine was offered lawyers instead, as they had a surplus of the latter, and dressed "in robes most decorus…"
In a sonnet, Claude McKay states, "If we must die, let it not be like hogs / Hunted and penned in an inglorious spot" and set the tone for the Harlem Renaissance.
The former Poet Laureate of the United States, Billy Collins, says, "The Mount Rushmore of Warner Bros. cartoons would be composed of the not-so-solemn faces of Bugs Bunny, Daffy Duck, Porky Pig, and the token human, Elmer Fudd."
And finally, David Slavitt tells us how some pigs in Poland get to wear burlap suits, but to no good end; and he wonders if those of among us, hoping for a reward in the hereafter, might just fare the same.