The abiding appreciation of the pig in poetry and art is an established and recurring theme here at Porkopolis. Today, that appreciation forms a Christmas wish going out to all the friends and visitors of Porkopolis.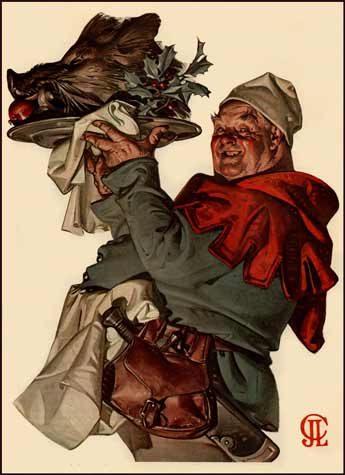 Then if you would send up the Brawner's Head,
Sweet Rosemary and Bays around it spread;
His foaming Tusks let some large Pippin graced,
Or midst those thund'ring Spears an Orange place;
Sauce, like himself, offensive to its Foes,
The Roguish Mustard, dang'rous to the Nose.

— William King (1663–1712), English poet and bureaucrat from the Art of Cookery. London: Bernard Lintott (1708).
The Boar's Head was a ceremonial entree presented at the beginning of many annual meals of the nobility in England since at least the 11th-century. By the 1300's, serving of the Boar's Head was primarily the first course only for meals presented at Christmas-tide.
This English Christmas Boar's Head was presented to gatherings with great display and flourishes of trumpets and chanting of traditional carols. Even in these earlier times, folks understood that pork in any form is not a trifle or a toy. It is the meat of savoriness, sacrifice and celebration!
Wishing you the enjoyment of family and friends
this Holiday Season,
and joy and wonder in the New Year.
And, if your purse, palate and piety allow it,
don't forget the pork.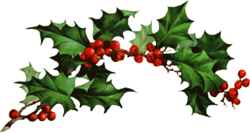 ---
Additional information:
From the Porkopolis Archive:
Editor's Note:
The Boar's Head image above was created by the U.S. illustrator J.C. Leyendecker (1874-1951). He created it for this cover of the Saturday Evening Post magazine edition of December 20, 1924.

William King (1663–1712), the English poet who wrote the poetic recipe above, died on Christmas Day, 1712, and probably missed his brawn and mustard.
The original wild boar bloodline that was native to England probably became extinct in as a wild species at the end of the 13th century. After this date wild boar were maintained as game animals for use by nobility and as a status symbol by the introduction of new boar stock from France and Germany.