Breezes in the moonlight are messengers showing us soft white billowing pigs in the clouds above. The same breezes careen over cobblestone or dance in damp grasses. They caress bare trees, tumble leaves, or nuzzle into homes through casement chinks.
A cool breeze that moves your collar to caresses your neck also whispers in your ear. Listen well, for a breeze is a child of Wind – one of the three great elemental sounds in nature.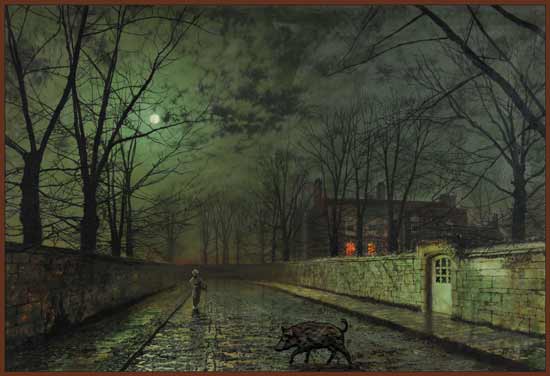 The billowing pigs with ears of silk;

Hours passed; the soft melodious moonlight grows…
A murmurous sound of far-off Circean seas
And old enchantments and the growth of trees.

And underneath the cotton-nightcap trees
Wanders a little cold pig-snouted breeze.

various lines from the poem "The Sleeping Beauty" by Dame Edith Sitwell, (1887-1964) a British poet and literary critic
Unbiased breezes plant the last acorns hanging on the oaks, they bring us the fragrance of winter fires and the scent of far off seas. Carelessly, these same breezes travel through the world duty free, and tell our secrets to all creation.
---
Additional information:
From the Porkopolis Archive: