If you are a pig, having a delightful trough full of treasures often also means you'll have flies… This is a cruel irony of porcine existence. On the evening of February 29, 2016 my personal delight, the Porkopolis.org web site, went dark with flies.
I discovered this the following morning, March 1st – National Pig Day. I could not give a final tweak and publish my annual celebratory post. It was National Pig Day, but Porkopolis.org was gone. Typing in or clicking on the web address gave back an "unknown web address" warning in my browser. Worse, I could not even imagine what was wrong. The cruel irony was mine, and the flies!… lots of flies.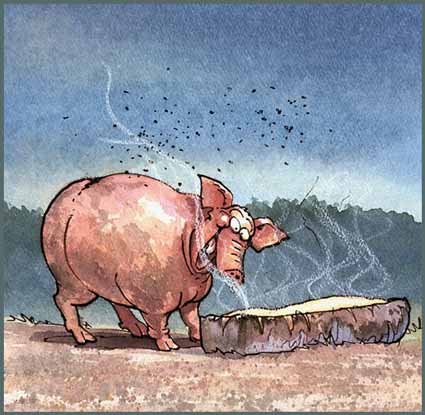 Over the course of March 1st, I rooted out what had happened at Porkopolis.org. ICANN (the Internet Corporation for Assigned Names and Numbers) had suspended the Porkopolis.org address effective February 29th. They did this because I had not responded to repeated emails from them.
ICANN does routine re-verification of registration information for domain addresses and their servers. I had failed to update this information for a very long time. ICANN generated several update requests to me via email from ICANN.
The email address for me in ICANN's records was no longer valid (ooops, my fault). So after an appropriate wait for me to respond, ICANN suspended the Porkopolis.org address. That got my attention. Well played, ICANN, and thanks, really, but why on National Pig Day, dammit…
I had some terrific help swatting flies from Marty at the domain registrar I use. Kudos to him and Hover. Porkopolis.org was back up and running with registration info all correctly updated by mid-afternoon, Tuesday, March 2nd. This trough full of treasures is my delight again, though it seems I brought those flies to this party.
My planned post for NPD this year? Back in the can for another day. Right now I'm still swatting the last few flies and exonerating ironies…