Admired, copied and parodied, Bob Dylan's 1965 two-minute vignette and visual accompaniment to his venerated track Subterranean Homesick Blues was a cultural earthquake that still resonates today.
Over fifty years ago on a summer day in London, Bob Dylan stood at the foot of a construction site at the rear steps to the Savoy Hotel. There he filmed what is now regarded as the first ever music video. It was shot by D. A. Pennebaker on May 7, 1965. This vignette became part of the documentary Don't Look Back, filmed by Pennebaker and chronicling Dylan's 1965 concert tour of the United Kingdom.
Look out kid
It's somethin' you did
God knows when
But you're doin' it again
You better duck down the alley way
Lookin' for a new friend
The man in the coon-skin cap
By the pig pen
Wants eleven dollar bills
You only got ten.

excerpt from Subterranean Homesick Blues by Bob Dylan
Dylan had released the album Bringing It All Back Home in March of 1965. This short film sequence conveyed some of the lyrics to the album's opening number via the throwaway shtick of words scrawled onto cue cards.
We see the young, fresh-faced, 23 year old Dylan in the process of smashing another mold, as he seeming manipulates the cue cards for his own alter ego singing off screen. And this approximately 218 seconds of camera work is now iconic to the point of ubiquity.
From a record which incorporated elements of rock 'n' roll into the folk music that had come to define him, Bob Dylan stood and filmed what is now regarded as the first ever music video – effectively begetting the artistic medium that would bring about MTV, VH1 and YouTube in the process.
And we are left to speculate and wonder if either Dylan or Pennebaker knew how influential that footage would become.
Editor's Note: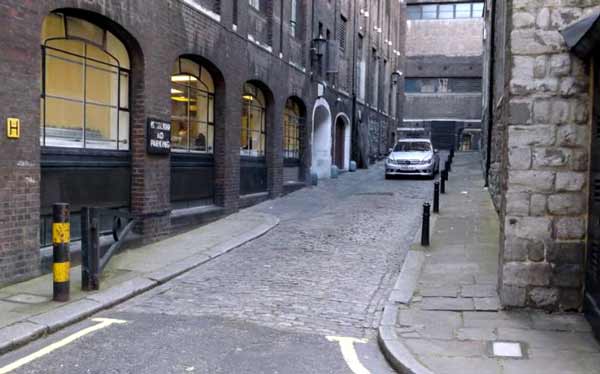 Here is the same venue today. It was and is the rear of London's celebrated Savoy Hotel.
Additional information: