a presumption of porcine wisdom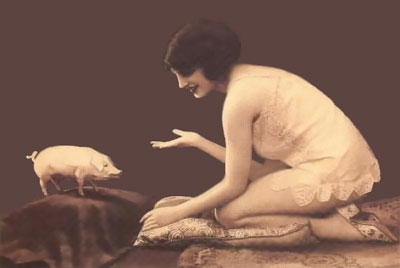 In a cave on the north shore of the Ohio River, just up-stream from Cincinnati, is the Fourth Pig's House. Here resides the Porcine Oracle.
Pythia, the daughter of a local swineherd, is the Porcine Oracle's muse and the medium through which he speaks. Every morning she kneels before the Oracle and entices him to offer up some daily words of guidance and wisdom.
The Porcine Oracle gives Pythia a new, pig-centric and thought-provoking prognostication every day and Pythia relays it to Porkopolis.org to be presented on our home page.
Each of us must then weigh the Oracle's words and decide their meaning based on the presumed wisdom of the Oracle's counsel and our own personal interpretations.