Quotations concerning pigs,
lard and legacy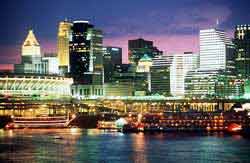 Pioneer pig stickers established the pork-packing industry as an early building block of Cincinnati's prosperity in the mid to late 1800s.
In the years after, the business of bacon, salt pork and lard migrated on to other venues. Yet a legacy of dancing pigs and flying swine lingered on in Cincinnati and the Queen City has remained, as well, "Porkopolis."
---
Whatever may have been the squealing celebrity of Porkopolis, Cincinnati seems destine to merge the glory of that name in the more agreeable title, City of Vineyards. That she is the Queen City none denies. But on account of what single excellence, it might be difficult, for some, to say. A queen of slaughter-pens might be a hearty buxom lass, but, withal, not exactly the personage for which knights (Sancho always excepted) love to break lances… But whether it be pork or iron, or gardens, or vineyards, or observatories, Cincinnati is acknowledged on all hands to be the Queen City.
Rev. Henry Ward Beecher (1813-1887)
U.S. Congregational preacher, orator, and newspaper editor. From "Cincinnati, the Queen City" in Plain and Pleasant Talk About Fruits, Flowers and Farming (1859).
The old gentleman [Mr. Longworth] is a diminutive looking person, with a coat so shabby that one would be tempted to offer him a sixpence if we met him in the streets… his wife is a very pleasing, primitive-looking person. We tasted at their house some of the ham for which this city, hailed by the wits Porkopolis, is so remarkable. The maple sugar is used in curing it, and improves the flavour very much.
Isabella Strange Trotter (1816-1878)
First impressions of the New World on two travelers from the Old: in the autumn of 1858 (1859).
…the beasts [Cincinnati's pigs] are impudent. They know enough to give way to a carriage, but as to a foot passenger, he must always turn out; they won't budge for a whole regiment, and no one wishes to come into contact with their filthiness.
Cyrus P. Bradley (1818-1838)
Bradley was only 16 when he went travel health and wrote this journal of his tour of Concord, New Hampshire, Boston, New York, Philadelphia, Baltimore, Washington, Ohio and Michigan. The Journal of Cyrus P. Bradley (c. 1855). Reprinted in Ohio Archaeological and Historical Publications #15 (1906).
…the very gutters are congested with them, as the dull monotony of pigs is visible everywhere.
Nicholas A. Woods
A London Times correspondent accompanying the Prince of Wales on his tour of America in September of 1860.
It was Cincinnati that originated and perfected the system which packs fifteen bushels of corn into a pig, and packs that pig into a barrel, and sends him over the mountains and over the ocean to feed mankind.
Anonymous
A favorite sentiment of Cincinnatians during the later half of the 19th century.
I must not close this chapter without stating that the Queen City bears the less elegant name of Porkopolis; that swine, lean, gaunt, and vicious looking, riot through her streets; and that, on coming out of the most splendid stores, one stumbles over these disgusting intruders. Cincinnati is the city of pigs.

As there is a railway system and a hotel system, so there is also a pig system, by which this place is marked out from any other. Huge quantities of these useful animals are reared after harvest in the corn-fie1ds of Ohio, end on the beech-mast and acorns of its gigantic forests. At a particular time of year they arrive by thousands — brought in drove and steamers to the number of 500,000 — to meet their doom, when it is said that the Ohio runs red with blood!

There are huge slaughterhouses behind the town, something on the plan of the abattoire of Paris — large wooden buildings, with numerous pens, from whence the pigs march In single file along a narrow passage, to an apartment where each, on his entrance, natives a blow with a hammer, which deprive. him of consciousness, and in a short time, by means of numerous hands, and a well~managed caldron system, he is cut up ready for pickling.

The day on which a pig is killed in England constitutes an era in the family history of the year, and squeals of a terrific description announce the event to the neighbourhood. There is not time or opportunity for such a process at Porkopolis, and the first notification which the inhabitants receive of the massacre is the thousand barrels of pork on the quays, ready to be conveyed to the Atlantic cities, for exportation to the European markets. At one establishment 12,000 pigs are killed, pickled, and packed every fall; and in the whole neighbourhood, as I have heard in the cars, the "hog crop" is as much a subject of discussion and speculation as the cotton crop of Alabama, the hop-picking of Kent, or the harvest in England.
Isabella L. Bishop, a pen name of Isabella Lucy Bird (1831-1904),
a 19th century British travel writer and the first female member of the Royal Geographical Society. The Englishwomen in America (1856).
Editor's Note:
In Traveling Tocqueville's America, (1998, Johns Hopkins University Press) by Anne Bentzel for C-SPAN, this quote below was erroneously attributed to Charles Dickens as part of a letter home to a friend while touring the U.S. in preparation for his American Notes, (1842).
It must be confessed that Cincinnati, the pride of the banks of "La belle Riviere," is in fact what its nickname, "Porkopolis," implies — the Empire City of Pigs, as well as of the West; but it is fortunate that they [the pigs] condescendingly allow human beings to share that truly magnificent location with them.
Lady Emmeline Stuart-Wortley (nè Manners) (1806-1855)
A peripatetic British writer. Travels in the United States During 1849 and 1850 (1851).
[the winged swine] represent the angelic spirits of all the pigs that were slaughtered and were building blocks of Cincinnati's prosperity. So they're up there paying one last tribute — singing the "Hallelujah Chorus" — to all their [dead] brethren who flowed into the river.
Andrew Leicester (b. 1948)
A public artist and designer of the Cincinnati Gateway at Bicentennial Commons in Sawyer Point Park, Cincinnati, Ohio. From "The Story Behind the Name" in The Cincinnati Enquirer, Friday, May 07, 1999.