The Pig Poetry of Australia and & New Zealand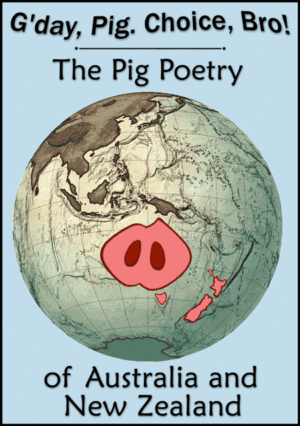 Australian and New Zealander Pig Poets
by name | detailed list

A Special Note from the Editor
Bring me an axe and spade
For this is insolent country
James Cook's pig-farm
Without rule or road.

from: 'Variations on a Theme' by New Zealand poet Allen Curnow.
talkative, yet subtle
I am a diligent explorer in the data stacks in a large litter of libraries at my disposal. Pig poems come up to the fences of my scrutiny there and snort their intentions. The poetry anthologies of Porkopolis get built from discovered poetry and talkative pigs.
The pig poems in this new anthology have secret subtleties, even when the title of the poem is as simple and clear as "Pigs." Out of the corner of an eye, unexpected affinities of pig and man arise. You will read these works, and the pigs that I have let through the fences will snuffle about your ankles… And you will like this.
… the head
sliced right off … Now its body and its
mind are truly split … On the rack,
so intelligent, comic, its ears hairy.

from: 'Pigs' by Australia poet Philip Salom.
a cruel deception
This is "antipodean" pig poetry. I chose it for this anthology because of a most important trait of all finely crafted poetry… You want to read it again and delve even deeper in to each poet's works.
Collected here are works by poets from Australia and New Zealand. Shortcuts seldom exist to the places most worth going. The physical distance between these lands and many potential readers is a cruel deception. There is universality here. These authors' reasonings are a rare and fine pleasure all readers can enjoy.
My mother
another Palagi,
she eats bacon with her flesh-coloured mouth.
She said she heard the pigs crying once
before they were killed
by the Tongans.
She said
They sounded like women.

from: 'Pretty' by New Zealand poet Simone Kaho.
boundless & eclectic
These works are brilliant and full of wonder. This guileless editor and humble swineherd is overwhelmed. I have again wandered in to boundless artistry. I am pleased to help bring these works, and their accompanying pigs, to new readers and a wider audience.
The theme here is loose, but pig-based, and the curation is somewhat casual. This is a presentation for enjoyment. Its eclectic, wonderful mix arose from diligent rooting efforts and many lucky discoveries. Gross omissions are likely a result of my level of access to materials and permissions.
'Now on your naked oath,' sez I,
'Air them things pigs or no?'

from: ' The Great Pig Story of the Tweed' by Australian poet J. Brunton Stephens.
wombats, kiwis
Some poets are here only because of the aide and suggestions of Porkopolis.org visitors. While others are here because they gave special access to their own works or suggested the works of others. I thank you all!
So here is another stepping stone on the pig path… Please enjoy and root about in whichever direction these fine antipodean poems compel you.
Thank you for visiting, and please have a care not to disturb the wombats, kiwis and other indigenous creatures while you root.
— Dan Schultz, living the life of a swineherd
as editor and curator at Porkopolis.org
Editor's Note:
See something amiss? Know some poet or poem I did not include? Please contact me with corrections or suggestions. I really do want to get this right. Thank you!