[Originally published in the Porkopolis Notebook in 2001.]
A feature issue for the U.S. Postal Service in 2001
When I was a kid, I had two playmates — a little fat kid called Piggy and his younger brother, who was called Porky. I always wanted to do a comic strip with two kids with those names. But in animation, everything is animals, so when I had this classroom cartoon, I thought of Porky.

– Isador "Friz" Freleng (1905-1995), Looney Tunes animator and creator of Porky Pig
The fifth and final stamp in the USPS' Looney Tunes series pictured cartoondom's stuttering swine, Porky Pig, as a mail carrier wearing a leather U.S. mailbag and standing near a weathered wooden mailbox. The Looney Tunes Porky Pig stamp, issued on October 1, 2001, was part of the USPS' 2001 National Stamp Collecting Month kickoff. The U.S. Postal Service issued the 34¢ "That's All Folks!" commemorative stamp in Beverly Hills, California. The stamp, designed and illustrated by Ed Wleczyk of Los Angeles, California, went on sale nationwide October 2, 2001.
"That's all Folks!" is depicted at the top of the design, which seems appropriate as the five year series of Looney Tunes stamps runs its course, ending with Porky's famous phrase that also ended hundreds of Looney Tunes cartoons.
The stamp was produced in souvenir sheets of 10 self-adhesive stamps, the souvenir sheet could not be split and the stamps could not be sold individually. Besides the standard pane of 10, there was a special die-cut pane of 10, two half press sheets (top or bottom half) of 60 stamps and stamped 21¢ postcards in booklet of 10. The pane of 10 was formatted to resemble the previous four issues in the series, but the large selvage panel, instead of reproducing the Porky design, pictured Porky in a montage with the previous Warner Brothers cartoon stamp subjects: Bugs Bunny, Tweety & Sylvester, Daffy Duck, and Wile E. Coyote & Road Runner.
Porky Pig is popular with audiences of all ages and has appeared in more than 160 cartoons. The first true star of the Looney Tunes cartoon series, Porky premiered in I Haven't Got A Hat directed by Friz Frelang and released by Warner Brothers in 1935. It featured Porky, as part of an "Our Gang" style group of animals, stuttering through a rendition of the Longfellow Poem The Midnight Ride of Paul Revere.
Porky Pig experienced several changes in his early years appearing as child, father, and young suitor in succeeding cartoons. Later, he became a more consistent personality with a gentle stammer, wide-eyed innocence and a boyish nature. Eventually, Porky Pig was redesigned as a more adult–looking character and cast as a wry foil for the silly Daffy Duck. Porky Pig, already a famous star, was guaranteed immortality when he was chosen to deliver his famous phrase "That's all Folks!" at the end of the Looney Tunes cartoons.
Editor's Note:
First-day covers were available by mail and were issued Oct. 1st, 2001 postmarked Beverly Hills, California.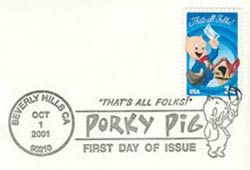 Porky Pig and other Looney Tunes characters, their names and all related indicia, are copyrighted trademarks of Warner Bros.. You might also be interested in the USPS Philatelic Center or the American Philatelic Society.