Cincinnati Gateway at Bicentennial Commons,
Sawyer Point Park, Cincinnati, Ohio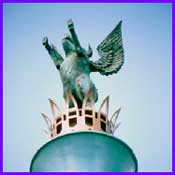 [the winged swine represent] the angelic spirits of all the pigs that were slaughtered and were building blocks of Cincinnati's prosperity. So they're up there paying one last tribute — singing the 'Hallelujah Chorus' — to all their [dead] brethren who flowed into the river…

– Andrew Leicester (b. 1948)
Cincinnati Gateway is the official entrance to Bicentennial Commons Park. Commissioned to celebrate the city's 200th birthday, this sculpture depicts various aspects of Cincinnati's history from prehistoric times to the period of early settlement and economic growth. The central elements are flying pigs atop riverboat stacks.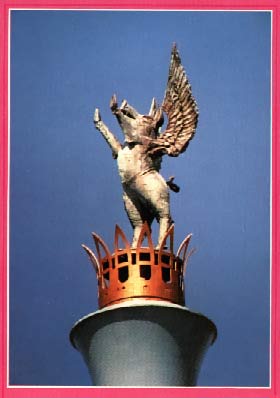 The whimsical winged pigs atop the four steamboat stacks recall a time when Cincinnati was nicknamed "Porkopolis" and meat packing and soap manufacturing dominated the local economy.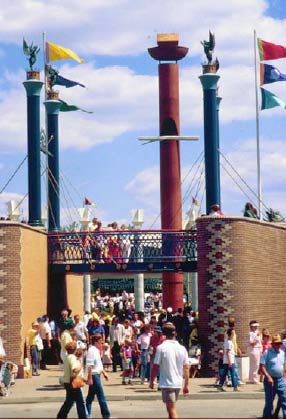 The park is the design of Andrew Leicester in collaboration with Meyer, Scherer and Rockcastle Architects of Minneapolis. The park was dedicated in 1988 and was the winner of the Top Honor Award at the International Waterfront World Conference in Washington. DC in 1999.