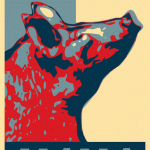 I recently succumbed the dual influences of self-gratification and the desire to be a mettlesome member of popular culture and created these two images. I would not have chosen this particular medium, except that I discovered a web app that made it fun and easy. The initial inspiration for the app was the Obama HOPE poster from the 2009 U.S. Presidential elections.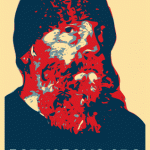 Frank Shepard Fairey (b. 1970) is a street artist and graphic designer who created HOPE and a series of other posters supporting Barack Obama's 2008 candidacy for President. Fairey's iconic Barack Obama "HOPE" poster has been called "the most efficacious American political illustration since 'Uncle Sam Wants You!' [Schjeldahl, Peter]
Now you can indulge yourself with an active part of something greater … Test the waters of the gorilla marketing or the tagging street scene in your own community. Imagine the feelings of empowerment you will enjoy as you mythologize your own countenance, crusade, or just some wanton craze.
The first step towards that empowerment certainly requires that you create an influential and potentially iconic image. And if the rest of your life has put a stiffening hold on your creativity, why not simply modify Fairey's proven method?
The folks at Paste Magazine have made this easy. They created the web app Obamicon.Me where you can upload an image (or use your web cam) and then "Obamafy" it. The app lets you upload, manipulate and then save your images at their site. You will need to 'join' with a password and email address, but then you can view everyone else's works, vote on the most iconic and create and share a list of favorites.