(c.1400-1450)
Saint Anthony

Folio 24r, Commemorations of the Saints
(c. 1400-1450), tempera colors, gold paint, silver paint, and ink on parchment
12.1 x 8.2 in. (30.5 x 20.7 cm.)
Marischal College, Aberdeen University

Editor's Note:

A close up of the image of St. Anthony is shown below.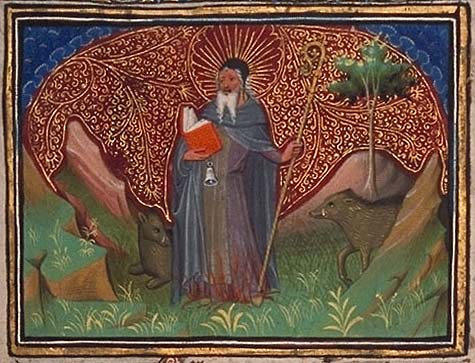 About the Artist
Burnet Psalter, (c.1400-1450). The Burnet Psalter was composed in the first half of the fifteenth century and contains a calendar, devotions (prayers and hymns) for personal use, the Psalter itself (the Book of 150 Psalms), and liturgies (forms of worship) for personal use.
The Burnet Psalter was bequeathed to Marischal College, Aberdeen by one of its most famous graduates, Gilbert Burnet (1643-1715), Bishop of Salisbury, historian, theological writer, and adviser to William III.
Psalters in general were intended for private use by monks, nuns and lay people. They were also used as an aid in teaching children to read. A single volume psalter generally contained a cycle of calendar pages, used for calculating feast days and commemorating the lives of the saints, the psalms themselves, and a collection of canticles and creeds. The decoration usually consisted of miniatures preceding the text and decorated initials at the main divisions in the text.