France, (1592-1635)
The Temptation of Saint Anthony

(1635), etching
13.8 x 18.1 in. (35 x 46 cm.)
Spencer Museum of Art,
University of Kansas

Editor's Note:

Many of Callot's etchings involve spectacular landscapes. or chronicle current events of his time, especially war. Others involve societal perceptions of soldiers, clowns, drunkards, wanderers, beggars, various outcasts, and deformities. Callot often chose themes of the grotesque and satire, which were not widespread in 17th-century art.

The most inspired of all his satirical and grotesque works is the engraving 'The Temptation of St Anthony', shown here. This work was also known as 'The Second Temptation of St Anthony,' because Callot had already created a work on this subject in 1617. In this work, we see the height of Callot's artistry. His techniques of seamless transitions in shading and his use of different tones – these were fundamental aspects of his distinctive etching technique and of the innovative methods he developed.

Neither St. Anthony nor his pig dominates this composition. Anthony (detail 1 below) is barely visible inside the arch on the lower left. His tortured pig (detail 2 below) is directly underneath the Saint.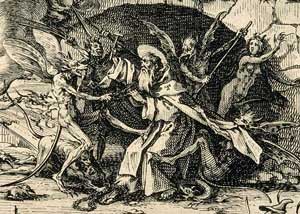 detail #1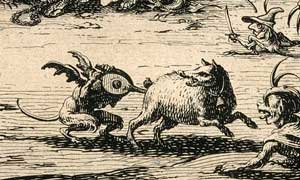 detail #2
About the Artist
Jacques Callot, France, (1592-1635). Jacques Callot was one of the most intelligent and individual of 17th-century French artists. An engraver and draughtsman, he worked exclusively in etchings.
Callot studied in Italy when he was in his teens, then worked in Rome and Florence. He returned to France in 1621, and most of the remainder of his career was spent in his native Nancy, although he worked in Paris and the Low Countries.
Callot was one of the first major creative artists to work exclusively in the graphic arts. Though working exclusively in etchings, Callot created works in almost all the genres of his time: historical, religious, portrait, landscape, etc. Today, over a thousand etchings and equally as many drawings of Callot's are extant – a prodigious output.