"When ye proffer the pigge open the poke."

The Commonplace Book of Richard Hill (1530).
Balliol College, University of Oxford, MS 354.
Today a new and totally redesigned site theme debuts here. I created this new theme specifically to give a clean new look to the Porkopolis rooting yard.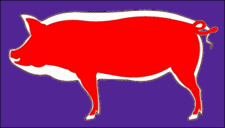 Porkopolis continues to be powered by WordPress, and the underlying code for this new theme is built using Justin Tadlock's ingenious ThemeHybrid.
Now with reduced fat
For this new theme I also carried out a major upgrade to the Porkopolis database.
The database upgrade was necessary in order to get this sow's snout out of the mud and correct many coding inefficiencies as well as some naive mistakes introduced by me and carried over from earlier versions of the site.
Happily, I was able to keep all the site's content, features and sections that visitors have been returning here to enjoyed since Porkopolis first opened in 1995.
A pig of that color
This new theme, and the re-worked database, will give Porkopolis a higher level of functionality and efficiency, and will continue the pigmentum built over the past 16 years.
My plan is for this site to continue to be a pig of that color, and the color being a pigment of my own imagination…
100% Pure Pork (mostly)
While any fool can buy a pig in a poke, if you explore a bit here you may find a silk purse wherein the web continues to be more of a "City of Pigs" than a Paris.
As I have said elsewhere, I hope everyone finds something interesting here and that some segment leads to somewhere down the pig paths of the world where you find it is meaningful to be.
Daniel E. Schultz,
Editor and Swineherd
---
Just a few updates… Thanks a couple of to diligent visitors and my testing, I have tweaked some bugs and corrected:
as of 11:45 AM today

RSS feeds now handled by FeedBurner as they should be
"Most Rooted Pages & Posts" are now showing up at the page bottom
a raft of small CSS adjustments have been made

as of 10:35 AM on Tuesday, the 20th

many more CSS tweaks
Contact Form tested, tweaked and working
Side note: wish I had better access to an IE9 browser to test my CSS 3 enhancements… need to sell a few pigs buy a new box!

as of 11:20PM on Friday, the 23rd

still more CSS tweaks, seems never-ending
reduced avg. page load time by 20% by compressing all 4 CSS files and then combining all into one file
testing new random image rotation methods
the cajiggering and rejiggering will continue, but today's is the last of these updates
---