England, (1798-1865)
The Wild Boar and the Singing Birds
An Ignoramus, rich and vain,
The name of genius too would gain;
His was a sort of "house of call"
For men of wit, or great or small;
There, authors of all kinds, as lean as
Starv'd greyhounds, dub him a Maecenas;
He gulps their flatt'ry gross and hollow,
They, in return, his dinners swallow.
As through his park, at early day,
He with his gard'ner chanced to stray,
They spied a savage, grisly Boar,
That, with huge tusks the ground up-tore:
Th' adjacent bushes all among,
Perch'd num'rous birds of sweetest song,
Of whose commingling notes, the sound
Made musical the air around.
Aside, half-pleas'd, half-puzzled, stood
The bristly tenant of the wood,
Now nodding, as in approbation,
Now grunting gruff depreciation:
(The sort of praise an Op'ra beau
Might on some debutant bestow.)
The master to the gard'ner cries,
"Do boars, then, song-birds criticise?
Tho' porkers have been taught to spell,
Of singing pigs I've ne'er heard tell!"
The gard'ner answer'd "Sir, the pig
Is acting like a booby big;
He thinks the birds exert their throats,
To please him with harmonious notes,
Whereas they're glad, because his snout,
With which he loves the earth to rout,
The bird-purveyor's part performs,
By turning up fresh grubs and worms."
~~~~
Wealth, may starv'd sycophants allure,
Worth only, can esteem secure.
George Linley, Jr.. Old Saws, Newly Set: Fables in Verse. London: T. Cautley Newby (1864).
Editor's Note:
This anonymous image introduced this poem in the 1864 edition of Old Saws, Newly Set.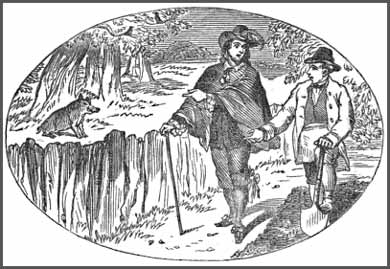 About the Poet:
George Linley (?1834-1869) was an English poet. Also know as George Linley, Jr. or George Linley the younger, he was one of three sons of the English poet and prolific composer George Linley (1798-1865). Linley the younger married Emma Reeve, daughter of Sims Reeve the singer.
The Gold-Seeker: a metric narrative and other poems (1860) contained his reflections on his time spent in Australia and his experiences there. Linley was also the author of Musical Cynics of London: a satire (1862) and Old Saws, Newly Set: Fables in Verse (1864). [DES-07/12]